How to make a plushie toy?
a panoramic view of the production line of Custom Plush Maker!
1. Exquisite Design
Once poring over the sketch of the plush toy you send to, our resourceful and sophisticated pattern* makers will immerse themselves into making a pattern that dovetail with your original draft. There is nothing more worthless than worrying about our plush toy pattern makers. Without exaggeration, our team is omnipotent in the arena of making a plush toy pattern that you want--from a exotic elf whimsically painted on a draft paper to a well-elaborated design of a mascot--their pattern-making-savvy including delivering a 2D or 3D pattern, and they will pull out all the stops off to design an exceptional pattern. (If you are not available to offer us a sketch or draft, we could also design a plush toy pattern in line with your requests for your perusal).

An example of a 2D pattern, made by (name of designer), a plush toy pattern maker(the left picture) 
An example of a 3D pattern,made by (name of designer), a plush toy pattern maker(the  right picture)
Pattern: In plush toys manufacturing industry, a pattern means a two-dimensional or three-dimensional thing that you designed on a paper or a computer. It lays down the basic shape of stuffed toys, offering guidelines of cutting and sewing fibers accurately. 
2. Pattern Cutting
An ordinary pen, a pair of delicate and deft hands, the graceful choreography of carving …the seemingly quotidian procedures of cutting patterns actually have an unique charm of craftsmanship. All pattern cutters of Toyseei Custom Plush Maker are all employers of patience and meticulousness, and they can do an impeccable cutting with their own hands.
First, our pattern cutters delineate the outline of the plush toy on the craft as per the 2D or 3D patterns our designers delivered. Simple though it seems, they must drew these lines perfectly, so as to ensure the prototype of your personalized plush toys will be in a good condition.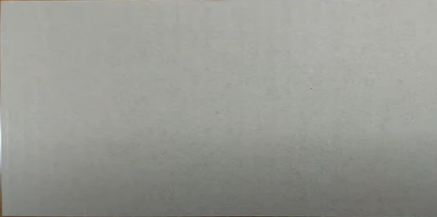 Second, they cut the craft through the outline they drew previously. In the course of this step, they get the craft pieces of a pattern, which is required in the procedure of cutting minky soft fabrics. In addition, they also need to write numbers, colors and designated materials on each piece, to enable them less likely to make a blunder later on.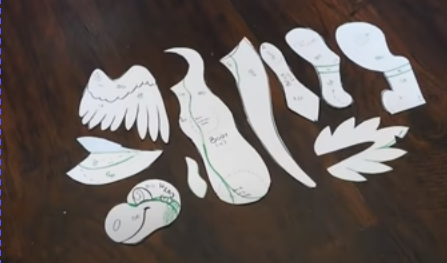 Third, pattern cutters are supposed to lay the pattern pieces on minky soft fibers, make trace lines according to their shapes, and cut the minky soft fabrics following the trace lines. ( A plush toy prototype is customarily made of fabrics of a wide assortment of colors and materials, so it entails extra costs to muddle the requirement of one pieces with others, which proves that the marking process is of necessity.)

Seam Allowance
When cutting minky soft fibers, our professional pattern cutters don't cut them outright through the trace lines. Rather, they cut them approximately 0.5 cm away from these lines. This is an unspoken rule in the process of cutting patterns, usually called "Seam Allowance". It makes a palpable difference in sewing the pattern pieces with one another, lending extra space for sewing machines to work as well as minimizing the aesthetic influence of stitches.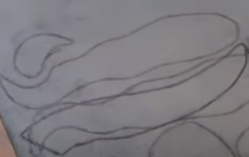 Inside Out
As is shown in the illustration, fabrics always have two sides: the inside and the outside. As most plush toys manufacturers usually do, we adhere to a principle that all procedures we operated are all on the inside, including marking detailed information on pattern pieces, performing embroideries and stitches, installing magnets or music boxes, etc..This technique is called "Inside Out" in plush toys' manufacturing parlance. It epitomizes the glamour of craftsmanship and makes our plush animals neat and natural.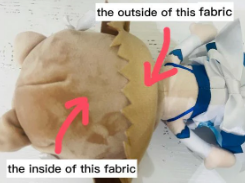 3.Posh Embroidery and Upscale Printing Technology
Although we got the scrupulously-shaped pattern pieces of a plushie toy, there are nevertheless various steps ahead to make a satisfactory prototype. Presumably, each of us is not unfamiliar with culinary, and getting the fabric pieces cut off are just like having vegetables washed and shredded--it is just a preliminary step, and the make or break of a plushie, or a dish, primarily hinges on how you are gonna deal with them. Currently, Toyseei Custom Plush Maker adapts WY-0908 embroidery machine and CMYKW DTG M15 printing machine to paint and embroider pattern pieces at a high standard, both of which are the most advanced machines in the industry, and none of which would pale into significance by the machines used by our rivals.
But what determines which technology a pattern piece should be used to make it well-prepared for sewing? There are two decisive factors.
One is our common practice. Usually, we use embroideries to represent details of a plush toy's face, and use printings to decorate other parts. We hold that the usage of facial embroidery can render our prototype more elegant and less generic, which is also one of our corporate principles. Also, in our opinion, the adoption of printings for other parts of a plush toy can save cost and boost efficiency, especially for bulk production, less usage of embroidery certainly has a sizable impact on them.
The other factor is the requirements of customers. If you specifically request some parts should be used printing or embroidery, we will take your idea into consideration first and try our utmost to meet your requirements even if it is a little bit tricky (like embroider a pair of protruding eyes on a jagged piece of a plush monster). But here is the catch: the monetary cost of using embroidery as decoration is relatively higher than using printing. When you just order one prototype for a trial order, the proportion of embroidery wouldn't ramp the price higher. But when it comes to bulk order, the narrow cost gap will be widened conspicuously. Although as a plush manufacturer who seeks long-term business cooperation, we always give a favourable discount for bulk orders, yet it is still possible for us to charge a premium incurred by massive embroidery usage.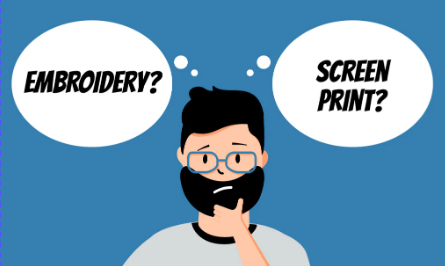 Bulk Dyeing Service
By virtue of the fact the number of fabrics' color in the prevailing market is relatively limited. Occasionally, part of colors of the prototype we offer to you cannot exactly coincide with your original request although we put our best foot forward. However, we could dye the fabrics whose colour are unfavourable as long as the MOQ of your bulk order reaches 500 pcs.
 4.Refined Sewing
A well-equipped knight is galloping, ready to face a new round of challenge with his partners. Though sewing pattern pieces is a not a process of cut and thrust, it fully interprets an art where different pattern pieces cooperate and coordinate under the needle of a sewing machine. Delicate paintings and embroideries served as an armor during this process, giving robust support to ensure that the completion of sewing can smoothly marks an end of this process.
Toyseei has introduced XR-G4030R sewing machine in its factory to conduct a refined sewing, ensuring every stitch is entitled to be complimented as "perfect". The machine can finish 12 stitches simultaneously, revolutionizing the low-efficient sewing process. Also, when we sew pieces together, we continue to perform the technique "inside out" so as to hide the sewing line in pursuit of neatness, and we also need to keep a hole for cotton stuffing next( usually on the back of a plush toy).
Sterling Cotton Stuffing
 Only by tasting a dish in person can we really discern whether the laudatory  comments of this restaurant are real or deliberately overstated for drawing customers. Similarly, only after filling cottons can we see whether we successfully made a plushie. With our advanced cotton-stuffing machine BY-600, this procedure can be down in a short period of times. Our workers can finish it by sticking the filling head of the machine into the hole of the intended plushie until it is impregnated with cotton.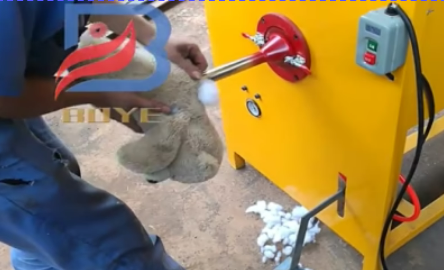 The Home Stretch
Once the cotton stuffing is finished, the plush toy full of cotton cannot marks the ending of making a custom plush toy. There is also a series of small procedures for us to do, which is the home stretch of making a custom plush toy . As we know, it doesn't always happen that the cotton can be proportionately distributed in every part of a plush. Therefore, it is important to reshape the stuffed cotton to make the final prototype aesthetically-pleasing. In addition, some plushies cannot stand in a good gesture because of the filling cotton cannot weigh enough. In that case, we usually add a number of plastic pellets to modify the weight of the plush.
Before we manually sew up the hole, we also check if there is a needle left inside the skin. For bulk production, we also use a needle detection machine, but if we just need to make a plushie prototype, we wouldn't take the plushie to the production line. Rather, our workers will put their hands into the skin and scrupulously touch every put of the skin and every strand of the cotton to ensure there isn't a needle left. Only when they checked thoroughly that there isn't a needle can the hole of the plush be sewed up.
For some plush toys taking faux fur or other fibers that are easy to shed furs as part of their materials, they will go through an extra procedure--being blew by a high pressure air pump. It blows away the dirt as well as furs that are flimsily-attached on the fiber, which remarkably reduces the possibility of shedding furs later on and contributes to customer satisfaction.
These are a blow-by-blow account of making a custom plush toy. We sincerely wish you could develop a keen understanding of plush toy industry and our company Toyseei Custom Plush Maker. We are always bending over backwards to make second-to-none custom plush toys, if you seek for a reliable customized plush toy maker, contact us--you won't be disappointed.